Adapted for Surfers
So what makes our vans perfect for surfers? Several things actually, apart from the obvious:
Board Straps
Fitted in the roof of our vans are two sets of straps for holding surfboards. This keeps up to four boards (including two longboards/Malibu boards) inside the van, out of the way and out of sight. So you can park in town without worrying about them, or make lunch without tripping up over them, or make the bed without dinging your lovely board, or go to sleep without hugging them (of course if you like taking your board to bed, you still can & we won't judge you!).
Wet Wetsuit Storage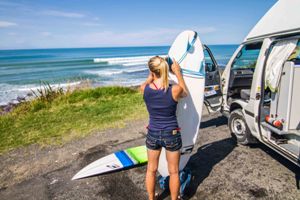 Under a bench we've given you a trug (a big, flexible bucket) to store your wet suit, boots & other wet things. It's also really handy for rinsing your salty gear in. Simple but priceless!
New Zealand Surf Guide Book
From Ahipara to Wellington, Kumara patch to Kaikoura this fat little beauty has them all. Over 500 pages with details of over 450 breaks, advice on swell predicting for the various regions, local tips and surf shops. It is the surfer's bible here in NZ and it will be waiting in your van to share its secrets with you.
The Obvious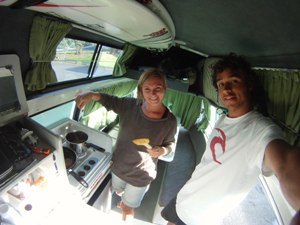 A place to chill waiting for the tide, swell & wind to come right.
Hot drinks / cold beer available (you did stock the fridge didn't you?)
Space to relax post-surf
Dry and private changing space.
Finally, the van's small enough to get down roads & tracks to the coast that some of the big motorhomes just wouldn't manage.