Suitable for Cyclists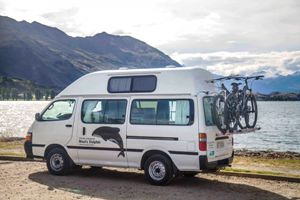 Do you want to combine a New Zealand cycling holiday with a New Zealand Campervan roadtrip? Yes? Well you've come to the right place! Maybe you want to surf too? No problem! Our vans can carry bikes and surfboards and still leave you with plenty of space.
PiwiWiwi Offer Bike Racks and Bicycle Hire
Downhill or Cross-country MTB, road, racing or commuter bike – whatever your preference our vans can carry them all! We can supply good quality FIAMMA bike racks which fit to the back of your van. If you don't want the hassle of bringing your bike over to NZ, don't worry. We can help with hiring any level of mountain bike and we have our own fleet of basic mountain bikes in differing sizes that are ideal for sight seeing around on and we also have two child seats to fit to our mountain bikes so you can take your little one with you.
Mountain Biking in New Zealand
New Zealand has some great trails on offer up and down the country. Of course there's the famed Redwood Trails at Whakarewarewa Forest in Rotorua and the infamous 42nd Traverse but there's far more to N Z than that! From the far North, through Auckland, Coromandel, Wairakei, Taupo, Hutt Valley, Fox Glacier, Queenstown and on South there's hundreds to choose from. For a comprehensive (though not complete, there's just too much!) guide check out the Kennett brothers' 'Classic New Zealand Mountain Bike Rides'
Here's a record of one of our bike trips from our Blog

Raglan Electric Bikes
If you get as far a field as beautiful Raglan, the birth place of Piwiwiwi you might like to take a more sweat free, carbon footprint free sight seeing venture around Raglan with Raglan Electric Bikes owned and operated by Anna & Niall the original founders of Piwiwiwi, they would love to meet you.