What's Inside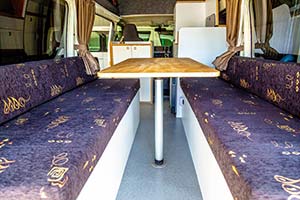 We include the following as standard in our Campervans:
In the kitchen there's pots & pans, plates & bowls, knives, forks & spoons, mugs & glasses, chopping board, serving bowl and other cooking gear, a stove-top kettle & a fantastic insulated stainless steel coffee pot.
A variety of bedding options appropriate to the season you'll visit during (usually duvet, 4 pillows, sheets & extra blanket).
Towels
Folding Camp Chairs
Fold Out Outdoor Table
Useful buckets (for laundry, wet clothes, beer & ice…)
Our 'Eco on the Road' kit – reusable coffee cups, fabric produce bags, reusable shopping bag, washing line & pegs.
The surfer friendly kit.
Gear for dealing with Emergencies including a first aid kit, fire extinguisher & tools for dealing with minor mechanical issues like flat tyres.
We have a selection of other kit that you may find useful. These are free of charge and subject to availability;
Various maps and guide books, stove-top espresso pot (a french press / plunge pot is included in the vans as standard), hot water bottle, folding table, storage boxes.
During peak season, we also have a box of food and consumables (washing powder, olive oil, ketchup, herbs & spices etc. etc.) left in vans by other customers. You are welcome to help yourselves to anything you might find useful during your holiday – waste not want not!
We offer the following as optional extras which you will need to pay for:
Surfboards – we have a couple of 7'6 NSP beginner boards
Bodyboards – fun for playing in the ocean
Fan Heater
Baby or Child Car Seat
Mountain bikes
Child seats for mountain bikes
Please contact us for prices and request them at the time of booking. Also, if you want something that isn't listed above ask us and we'll see what we can do to help you out.